Battle Arena is a team based pvp event.
Players are rewarded with Arena Coins that can be exchanged forvarious items.

Battle Arena will regularly take place every 30 minutes with a duration of 20 minutes.
Battle Arena schedule:

Arena types: random matching & party arena
&nbsp · Random matching arena (8vs8): Players apply individually and randomly are
&nbsp&nbsp&nbsp divided into 2 teams upon the start. The scale of the battle is by default
&nbsp&nbsp&nbsp 8vs8 with a minimum of 4vs4.

&nbsp
· Party arena (8vs8):
Players gather in an Exp-Auto-Share party with
&nbsp&nbsp&nbsp the party leader making the registration. This type is limited to 8vs8 party
&nbsp&nbsp&nbsp battles with a minimum of 2vs2.
The registration period will start 10 minutes before the start and is closed 10 seconds before the event will take place.

Players can apply for Battle Arena at the Battle Arena Manager located in each town.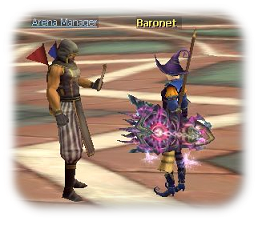 Once it starts, the players will be teleported in the arena and
automatically be divided into 2 teams: Blue Dragon and Red Lotus.
Matches can come in 2 playing modes: Capture the Flag or Point Battle. The
playing teams can get score points if the following conditions are
fulfilled.
Capture the Flag:
&nbsp · Score 1,000 points for placing the flag into your flagpole.
&nbsp · Lose 1,000 points if opponents place the flag in their pole.
&nbsp · Score 1 point by killing an opponent player.
Point Battle:
Scoring points is possible by killing monsters and players.
&nbsp · Score 6 points for killing an opponent player.
&nbsp · Score 1 point for killing a normal monster.
&nbsp · Score 3 points for a champion monster.
&nbsp · Score 8 points for a giant monster.
&nbsp · Score 60 points for a elite monster.
The team with the higher score wins the battle after 20 minutes are over.
If both teams have a equal score, the match will end in a draw.
The battle will end after 20 minutes showing the result of either WIN, LOSE
or DRAW. Players are rewarded with Arena Coins according to their team's
result and teleported back to town.

Note:
Players cannot get more than 32 Arena coins (equivalent to two wins) per day from participating in the Battle Arena.
Rewards:
Speak to the Item Manager at Hotan city to exchange Arena Coins for various rewards.
Following items can be acquired with Arena Coins: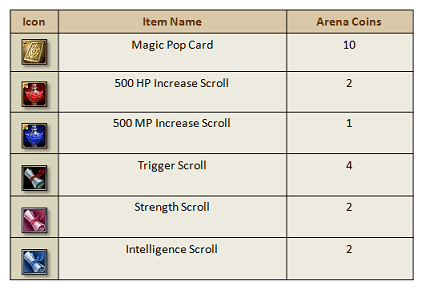 Note:
Arena Coins and rewards are account-bound!
Playing rules:
To guarantee fair gameplay during Battle Arena, please make sure to read the following rules:
&nbsp • When participating in Battle Arena, please do not leave your character unattended delibaretely (AFK).
&nbsp&nbsp&nbsp If you join Battle Arena, playing your character is required. Leaving your character unattended is
&nbsp&nbsp&nbsp only allowed in emergeny situation when your team mates agree on it.
&nbsp • Participating in BA with more than 1 character at a time is not allowed and will lead to punishments
&nbsp&nbsp&nbsp such as login restriction for the ID.
&nbsp • Please help us monitoring for a fair gameplay and contact us with a report in the following form:
&nbsp&nbsp&nbsp o Character name,
&nbsp&nbsp&nbsp o Date and time of the BA when it occurred,
&nbsp&nbsp&nbsp o If possible, a screenshot that can confirm the incident.
We will investigate the issue and if required take measurements due to interference of the other player's
gaming experience. We can't promise to take penalty measurements to all characters that players report.
Punishment options:
&nbsp • Temporary restriction for gaining any Arena Coins from the Battle Arena (14 days)
&nbsp • Temporary restriction for gaining any Arena Coins from the Battle Arena (60 days)
&nbsp • Permanent restriction for gaining any Arena Coins from the Battle Arena